By Gurmukh Singh
India's influence and visibility in Canada have been increasing rapidly in recent years, and Canada's post-Pokhran-II freeze on bilateral ties now seems like a distant event.
One, India has almost become the biggest source of immigration to Canada, and the million-strong Indo-Canadian community already accounts for 3 per cent of this country's population of 34 million, which is the highest figure for Indians anywhere in the Western world!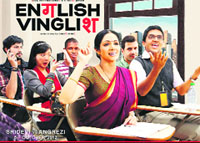 Sridevi back in action
Considering that the Punjabis account for the bulk of the Indo-Canadian community, Canada has virtually become their home away from home.
And since more than 80 per cent of over 30,000 Indian immigrants who come here each year land in just two urban centres of Toronto, Vancouver and their satellite towns, these cities are increasingly looking 'Indian'.
But more than the rising numbers of Indians in Canada, India's influence in Canada has been increased by its soft power – Bollywood, music, yoga and cuisine.
Though fascination with things Indian among Canadians is not something new, 'The Year of India in Canada' in 2011 did wonders as India came here in a big way to showcase its cultural and traditional richness.
Canadians were treated to a surfeit of Indian classical music, folk traditions, food and what not. During the year-long celebrations, hardly a day went by without any Indian icon enthralling Canadians.
Bollywood too jumped on to the Year-of-India-in-Canada bandwagon by bringing the International Indian Film Academy (IIFA) awards – its biggest show overseas – to Toronto.  By far, it was the biggest gathering of Bollywood stars in North America. And after this three-day extravaganza – which pumped millions of dollars into the city's economy – one could see an average Joe talking about Bollywood stars.
Amid all this, India also brought its mini-Pravasi Bharatiya Divas to Toronto and announced to set up a unique Indian cultural centre in the Canadian city to rival Nehru House of London!
Now, when that cultural centre comes up is a matter of conjecture.
Toronto film festival goes Mumbaiya
The Toronto International Film Festival (TIFF) – the world's premier film show – too couldn't escape the Indian bug in the 'Year of India in Canada' and announced to bring Mumbai to India in 2012.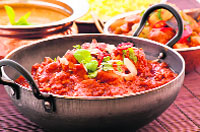 Canadians love Indian cuisine
The just-concluded 37th Toronto film festival screened a record 16 Indian or India-centric films as part of its city-to-city programme with focus on Mumbai. One can conveniently call them Mumbaiya films as they came here under the name of Mumbai.
Sridevi flew in from Mumbai to charm Canadians and have chai with top leaders as her comeback film 'English Vinglish' was premiered at TIFF. ''I now hope to continue acting (after a gap of 15 years),'' said the former Bollywood queen after a cup of tea with Ontario premier Dalton McGuinty, who is a big fan of Bollywood and personally knows many top-notch film stars.
Deepa Mehta brought her 'Midnight's Children' and Mira Nair her 'The Reluctant Fundamentalist' to TIFF.
Anurag Kashyap seems to have become a regular feature of the Toronto film scene as he was here again with his 'Gangs of Wasseypur' I & II. So were Hansal Mehta with 'Shahid' and Dibaker Banerjee with 'Shanghai'.
Interestingly, Mumbai-based Manjeet Singh became the first Sikh filmmaker to enter the film festival with his highly acclaimed 'Mumbai's King'.
''I am thrilled to be here. It is the best thing to happen to me,'' Manjeet Singh, who is a masters in engineering from the US, told this correspondent at the premiere of his film that shows how three kids in Mumbai slums enjoy their life to the hilt despite poverty and family violence.
Bringing over so many Mumbaiya films to TIFF was in keeping with Bollywood's and India's growing profile, said Toronto film festival artistic director Cameron Bailey.
Bilateral trade at $5 billion  is pathetic
But India's growing profile in Canada is not reflected in the bilateral trade between the two countries.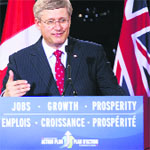 Prime Minister Stephen Harper
Their two-way trade of $5 billion looks pathetic when compared with the Canada-China trade of about $65 billion annually. In 2009, when the bilateral trade between India and Canada stood at about $4 billion, pledges were made by both sides to triple it in the next five years. Three years and dozens of ministerial visits later, the trade still hovers in the region of $5 billion.
The much-touted comprehensive economic partnership agreement (CEPA) to eliminate tariffs is still in the works after many rounds of negotiations.
And the nuclear deal announced by the two prime ministers here in June 2010 remains in a limbo as Canada seeks arrangements to ensure that uranium and reactors sold by it are used for peaceful purposes by India.
Canadian diplomacy, which accused India of using their supplied nuclear technology (CANDU reactors) to carry out the 1974 nuclear test and got nuclear sanctions slapped on India, still remains sceptical of New Delhi. Indian diplomacy too doesn't trust Canada because of its handling of the events of the 1980s – the activities of pro-Khalistani elements and the Air India bombing.
Will Canadian Prime Minister Stephen Harper, who visits India in November, be able to break the logjam remains on the nuclear treaty?
Poor air links
Despite its largest concentration of the Indian diaspora in the world, Canada is the least connected country to India by air. With Air India stopping all flights to Toronto, Jet Airways is the only Indian carrier flying between Toronto and Delhi. Not surprisingly, passengers heading for India are paying through their nose. And they have nowhere to go to seek redress of their plight.
(Courtesy of The Tribune where this article appeared on October 2)