By Gurmukh Singh
TORONTO: Though it is too early to say anything about his prospects, if Punjab-born Harinder Takhar, who in 2003 became the first Indian to hold a ministerial position in Canada's Ontario province, manages to win the leadership of the ruling Liberal Party of the province, he will go on to become the premier of Ontario.
The leadership election has been necessitated by the resignation of the sitting premier Dalton McGuinty who was also the leader of the Ontario Liberal Party.
So, whosoever wins the party leader's post also becomes the premier of Ontario. If the soft-spoken Takhar wins, he will be the second Indian in Canada to become a premier after Ujjal Dosanjh who created history in February 2000 by winning the premiership of Canada's British Columbia province.
To put things in perspective, the post of a premier in Canada is equal to that of a Chief Minister in India. But unlike Indian chief ministers, premiers in Canada are much more powerful, because provincial parties are absolutely independent of national parties and choose their own leaders.
Further, the premier of Ontario is considered to be the second-most powerful person in Canada after the Prime Minister, because Ontario is the country's most powerful province as it accounts for about 40 per cent of the country's economy and population.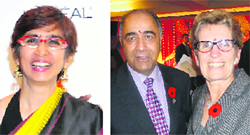 Meenakshi Shedde at Ind Exp,Toronto. Photo by Patrick Jube WireImage-Getty for TIFF Right: Harinder Takhar with his main rival Kathleen Wynne. Photo: Gurmukh Singh
After officially announcing his bid for the leadership on November 24, Takhar began the task of wooing about 2,500 delegates who will elect the new leader on January 27. The only person of colour in the fray, Takhar faces six opponents, including two formidable females — Kathleen Wynne (until now Minister for Municipal Affairs and Housing) and Sandra Pupatello (former Minister of Economic Development and Trade). "I am here in the race to win it," he declared.
A successful businessman, Takhar joined politics in 2003 and won in the Assembly elections. Immediately, he was made the Minister of Transport and has been holding the ministerial position since then. Since election rules require all contenders for the party leader's post to quit their Cabinet posts, Takhar too has resigned from the ministry to enter the fray. The 61-year-old Takhar came to Canada from Shankar village — also the native place of the late Union Minister Swaran Singh — near Jalandhar in 1974. Before he left for Canada, he was a bank officer with the Punjab and Sind Bank. Like any new immigrant, he started his life in Canada at the bottom. However, Takhar was soon on his way up the corporate ladder because of his finance background, which he fortified by earning a Certified Management Accountant (CMA) degree from Toronto. Having held many senior positions in private companies over the years, he then went on ahead to create his own business under the name of Chalmers Group of Companies. Now, he touts his experience in the business world as his biggest asset in tackling the problems of Ontario province.
"All my career, I have been involved in finance, business and job creations. In fact, my career of 25 years is based on the basic fiscal discipline. And at this point, Ontario is faced with a fiscal deficit of $14 billion and the issue of job creation. I have the financial experience to tackle these two issues which none of the other six candidates has,'' said Takhar, kicking off his election campaign. His entry into the ruling party's leadership race has galvanised the 5,00,000-strong Indo-Canadian community of the Greater Toronto Area.
A slice of Indian cinema
It looks like the Toronto International Film Festival (TIFF) is reinventing Indian cinema for global audiences. After showcasing Mumbai under its city-to-city programme at its last edition in September in which 10 Mumbai-centric films were screened, TIFF screened yet another package from India in November. Called Indian Expressionism, the seven-film package included movies from the 1920s to the 1970s. These included Light of Asia (1925), The Blue Angel (1930), Pinjra (1972), The Indian Tomb (1921), The Tiger of Eschnapur/The Indian Tomb (1959), Amrit Manthan (1934), and Mahal (1949).
Mumbai-based film critic and curator Meenakshi Shedde, who flew down to Toronto to present Indian Expressionism from November 14 to 21, said the package was "an interesting way to top off Diwali celebrations". Interestingly, Indian Expressionism is actually all about the influence of German Expressionism on Indian cinema from the 1920s to the 1970s.
Shedde, who is also India Consultant to the Berlin and Dubai film festivals, said: "Through this package, I wanted to tell global audiences that the Indian cinema from the 1920s onwards was much more global than today's Bollywood. While current Indian films open only to diaspora audiences, the films from that era used to open to global audiences. Look at Light of Asia, an Indo-German co-production of 1925. It was released in Berlin, Munich, Vienna, Budapest, Brussels, London and so on. In fact, in Britain this film had a special screening for the King and the Queen. It ran in British theatres for many weeks.
"So what Light of Asia accomplished in the 1920s, no Bollywood film has been able to manage — even up to 2012,'' said Shedde who was also India Consultant to the "Raj Kapoor and the Golden Age of Indian Cinema" festival held by TIFF last year. Shedde said the great filmmakers Himansu Rai and V. Shantaram were deeply influenced by German Expression because, in the 1920s, Germany cinema was pitching itself as a rival to Hollywood. And the UFA Studios in Berlin were their centre of excellence. "But since they didn't have the kind of budgets that Hollywood boasted, German Expressionist films made up for this by having set designs and performances in an exaggerated, distorted, unrealistic style that reflected inner emotional realities,'' she said.
(Courtesy of The Tribune)